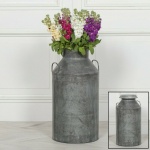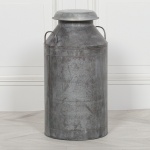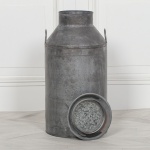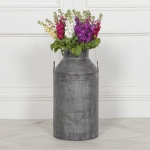 Vintage Style Milk Churn
Product ID: 32279
Free UK Mainland Delivery*
Wedding Decor Galvanised Steel Tin Vintage Style Milk Churn
Dimentions & Specifications
H66.5 x W34.5 x D.34.5cmWe suggest with this product if using outside to fill with Soil or Sand to keep firm on the ground. The product does come with a special plastic bag included so it can be filled with water for flower displays. Suggested minimum flower length 30cm to use (Fill Water to max height – 40cm).
Delivered Within 2 Working Days
Order before 10.00am Monday-Friday for 2 working days delivery to UK mainland. Remote areas and international deliveries usually take 3-6 working days and are subject to additional delivery charges. For full information of delivery terms please CLICK HERE.
Delivery Options
Delivery Charges
Mainland UK – All items are sent to mainland UK free of charge (some larger products to Cornwall, parts of Wales, Scotland and Highlands may incur additional charges at checkout).
Non Mainland UK – Delivery to non UK mainland may be subject to additional charges at checkout.
Northern Scotland – Small furniture and mirrors to N.Scotland are free of charge, larger furniture & mirrors to Scotland and Highlands may incur additional charges at checkout.
Other Countries
We can deliver to pretty much anywhere in the world with very competitive delivery prices offering a tailored service to safely pack and transport the order on specially made pallets or crates for safe international delivery. To get an international delivery quote please go to checkout and complete "request online delivery quote". We will return a delivery quote to you within 1 working day.